Thermoray, suitable for indoor and outdoor heating.
The seasons are giving us more and more opportunity to enjoy an evening in the open air. Unfortunately, it's often just that little bit too chilly and we're forced to move inside.
Thermoray patio and conservatory heaters allow you to enjoy the outdoors in
comfort during evenings and colder periods. The small IR radiators warm you up
extremely comfortably, while the slim format makes the heater a stylish and ornamental addition to your wall or ceiling. The IR technology means the Thermoray will not glow red like many other heaters, allowing it to spread its warmth more pleasantly. For more information on how IR heaters work, click here.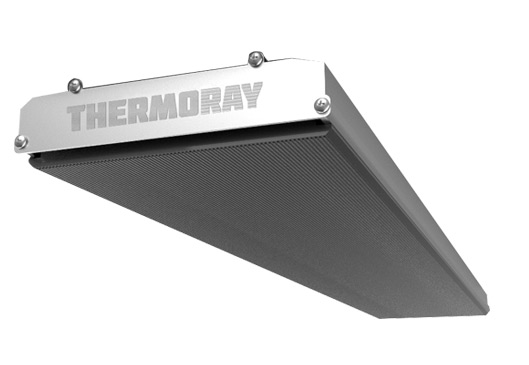 Thermoray heaters require very little space and can heat a patio to a pleasant
temperature within 15 minutes. They have stylish aluminium casing and are equipped with adjustable fixing brackets, making it easy to affix the heater in the
desired position.
Despite their high performance level, Thermoray heaters are relatively energy efficient.